We are anticipating a price increase for 2019. Book early for your best price.
Want a tour of our facility? Call us at 276-621-4511 or email beagleridge@gmail.com
About Us:
Your wedding is one of the most important days of your life and we are here to help. We will ensure it is also one of the most beautiful, relaxed and well planned events you, your families and your friends have ever attended.
Services:
We will work with you on every aspect of your wedding, can customize our services to fit your needs. Our venue provides a serene private setting for your special day. We work with caterers, photographers, wedding planners and every vendor you will need.
You can be assured will be there to make sure everything goes smoothly.
Scan this QR code from WeddingWire.com to read reviews from a few of our brides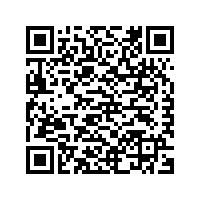 Our Commitment:Reviews from our brides!
Planning a wedding can be stressful, but it doesn't need to be. We have experience planning weddings of all types, and will work with you to plan the wedding you have always dreamed about. With our help, you can focus on the things that matter, like spending time with your family and friends during this momentous occasion.




******************************************************************************************************************************
Reviews from our brides:
My daughter Kat, searched for months seeking out the perfect place for her wedding. Beagle Ridge & it's staff made all her wedding dreams come true. She is all about being not only green but also Vegan She loved how Beagle Ridge provided absolute beauty and harmony with it's spot on the planet; with acres of beautiful gardens, abundant wildlife and let's not forget the Butterfly House. Then there are the owners Ellen & Gregg. Oh my gosh, there is nothing they won't do to make everything perfect & run smoothly for their guests - Susan Quakenbush
Such a perfect day, thanks so much for providing just what WE asked for" - Sara
"You seemed to know what we needed before we even asked. Thanks to all of you for my dream wedding come true"- Lee Ann
****************************************************************************************
Outdoor Weddings/Receptions
Use of Beagle Ridge Facilities includes: the gardens for the ceremony and /or pictures, use of the pond area for the ceremony, a rehearsal for the wedding the evening before is included. Dinner options for the rehearsal dinner in the gardens are available ( ask for pricing), decorating for the event is suggested the day before ( no additional cost). Bathrooms are on site. Tables and Chairs will be provided for you, tablecloths in a variety of colors, are available for a fee. A permanent tent is set up in the gardens and is included in the basic cost. It will seat 50 people. A temporary tent may be set up to accommodate up to 250 in the field adjacent to Serendipity or various other locations on the property; we can provide tent rental professionals for you, for an additional cost.
Indoor Weddings/Reception
The Serendipity Center is available for your special day. Use of Serendipity includes tables, chairs ( we set up for you), linens for a fee, bathrooms, and a complete kitchen for the day of your event and decorating the day prior, if not rented. A large well appointed roomis available upstairs for the bride's party to change and spend some quiet time prior to the service. This is also a wonderful venue for pictures. Let us know if you would like to include a rehearsal dinner in the gardens or center the night before , ask for pricing.You can count on us and we will be there to make sure everything goes smoothly.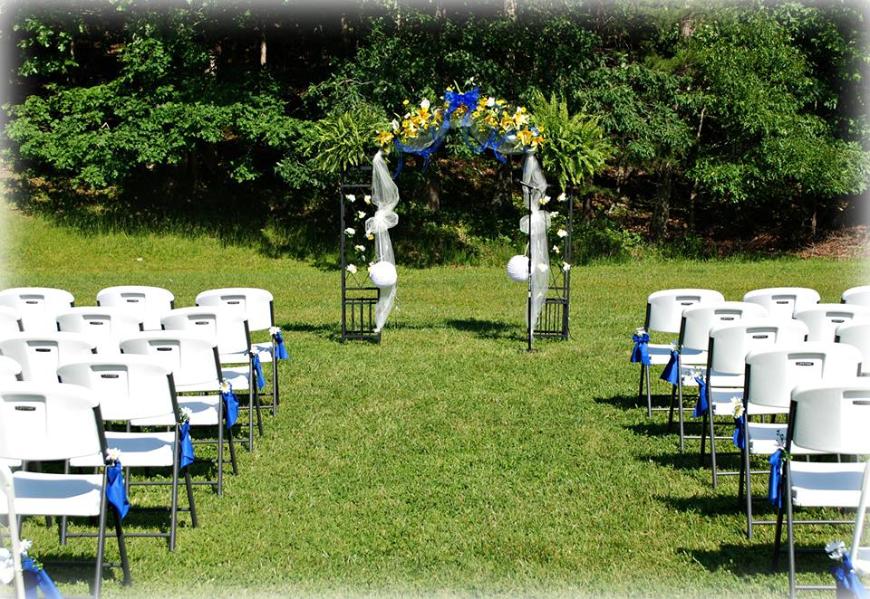 A simple service in the gardens or a larger one in the field with the woods as a backdrop. We can provide a wide variety of services and the property can accommodate a variety of options for your service.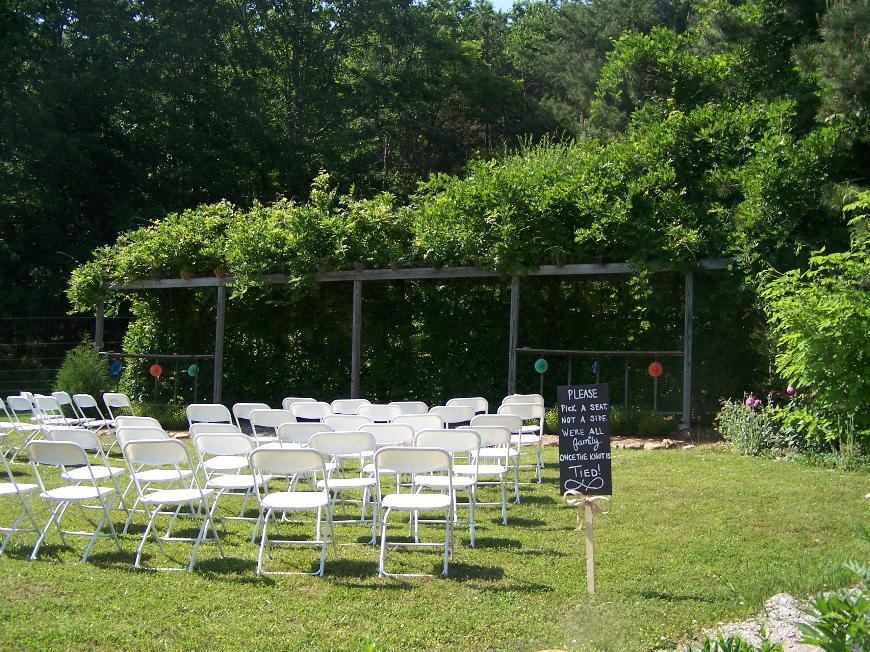 The pictures below show just a couple ways the brides have decorated for their receptions
Serendipity provides a blank canvas for the bride and groom to make it their own.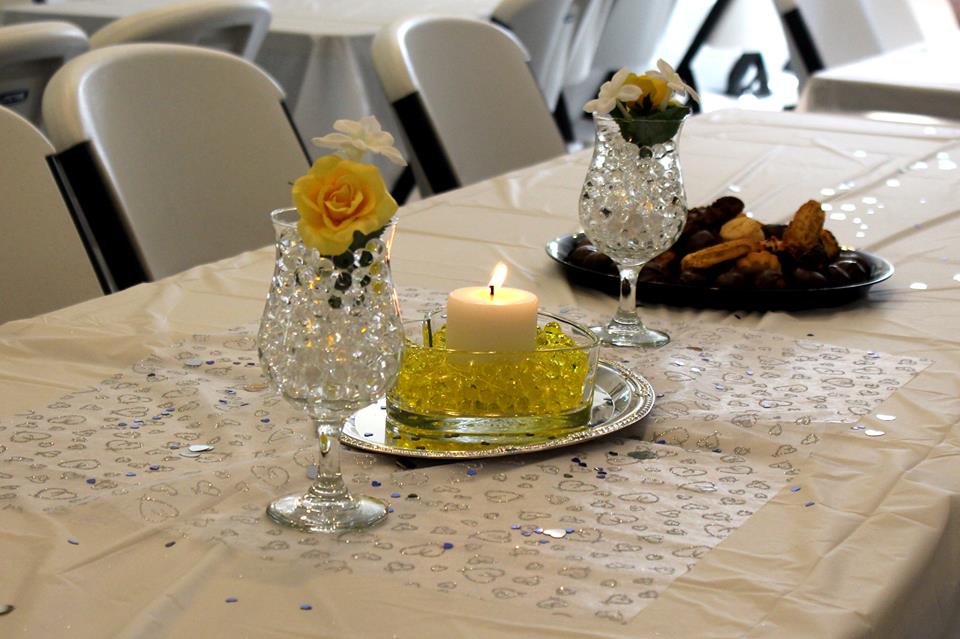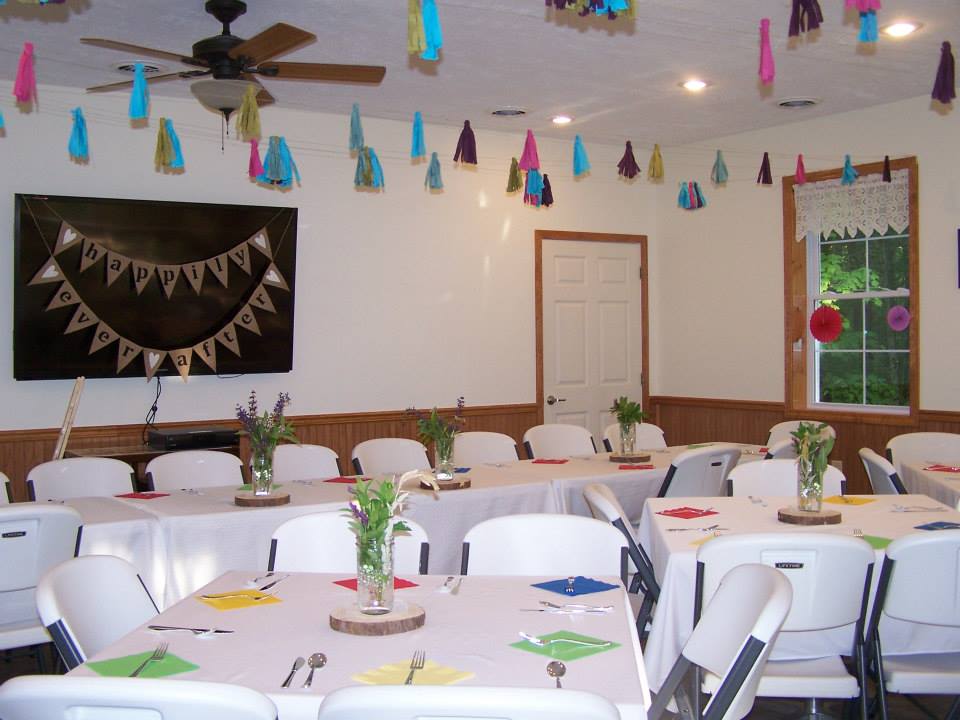 Locations for your vows: A simple service in the gardens or a larger one in the field , the property can accommodate a variety of options. We can provide you with a venue surrounded by flowers in the gardens, in Flying Flowers among the butterflies, a quiet spot in the woods or a serene setting down by the pond. Of course Serendipity is available to you should you wish an indoor service.
Even if you choose the gardens for your ceremony you are able to stage pictures in the butterfly house, as this couple in this picture.